Emmanuel student Rachel Lauren Clark becomes first openly trans person to ever open a Major League Baseball game.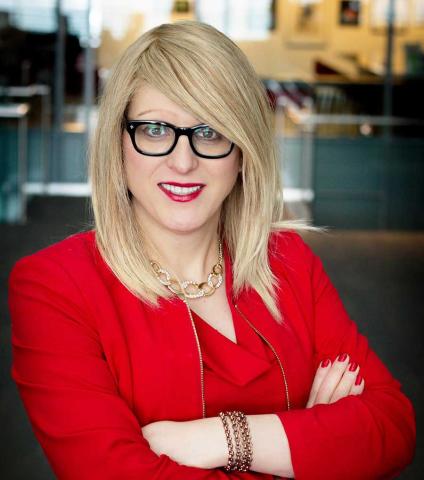 Rachel Lauren Clarke
Credit: Tamara Lang
When the Toronto Pride Parade hits the streets on July 3, Rachel Lauren Clark will be marching and celebrating. The Emmanuel College theology student is very happy that organizers of this year's Pride celebrations "made an effort to be much more adept at highlighting trans people and trans issues, plus the unique struggles they face."
That awareness campaign got off to a big start early in June, when Clark, who transitioned in 2013, threw out the ceremonial first pitch at a Toronto Blue Jays game. That toss—"a really good pitch," according to catcher Marco Estrada—caught the attention of international news organizations. That's because she was the first openly trans person to ever open a Major League Baseball game.
"It was very exciting," Clark said in an interview with the United Church the day after that game. She was pleased with all the international attention her pitch received (friends in Australia told her they had seen news reports about it) as that global coverage helps increase trans awareness.
While gays and lesbians have made great strides in terms of equality in the last 30 years, Clark says "trans people have been really left behind…we are still horribly discriminated against."
She knows only too well how painful that discrimination can be. In a Toronto Life blog post titled My Trans Life, she recounts growing up as an effeminate boy in upstate New York. She tried to fit in as a male, even joining the "hypermasculine world" of the U.S. armed forces at the age of 17, where she stayed for eight years.
She then became an IT manager, and bounced around between jobs, relying on alcohol and anti­depressants to help cope as she suppressed her gender identity. After years of emotional turmoil, she was told by a psychologist that: "There's nothing wrong with you. You just need to come out."
In 2013, she started living openly as Rachel in Toronto. She soon discovered firsthand the discrimination and hatred that trans people experience daily. Despite her strong IT credentials, no company would hire her. As her savings ran dry, Clark became desperate. Believing she had no other option, she attempted to drown herself in Lake Ontario.
"I'm convinced that God saved my life that night," she notes in her blog post. "As my lungs burned, I heard a voice telling me it wasn't time to die"
Her life began to improve. She found a job and housing, and started to attend Metropolitan Community Church, where she developed her interest in religious study. She enrolled in the divinity program at Emmanuel College, before switching to the school's theology program.
"I still don't know if I want to be an ordained minister," she said, "All I know is that I want to be closer to God."
While she has never personally experienced transphobia in the United Church, she is disappointed to hear that there is still discrimination against gays and trans people in some congregations.
"Jesus never once rejected anyone for being who they were," she noted. "There is no biblical or theological reason to deny LGBT people access to the church, yet there are people out who still believe that should be the case….church leaders haven't done a very good job at deleting that narrative."
As secretary of the board of Pride Toronto, Clark is happy that this year's festival is putting an emphasis on trans people and the struggles they face. She says she will continue to champion trans rights, and that her world-famous pitch is just the beginning.
"We still have have lots of work to do," she said.
-Paul Russell is Communications Coordinator with the Office of the Moderator and General Secretary.