Some 500,000 people call for peace by joining hands across the Demilitarized Zone separating South and North Korea.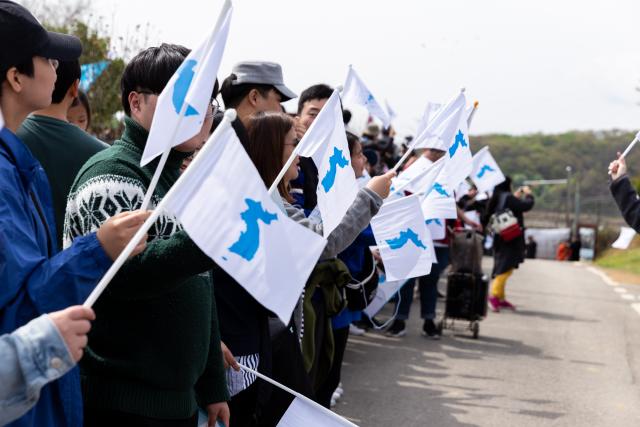 People gathered to form a human peace chain in the Korean Peninsula.
Credit: John C. Park / WCC
On April 27, 2019, some 500,000 people joined hands to form a human peace chain 500 km long across the Demilitarized Zone between South and North Korea. John Egger, United Church Co-worker in Mission with the Presbyterian Church in the Republic of Korea (PROK), writes about this celebration of the first anniversary of Panmunjom Declaration and hope for peace in the Korean Peninsula.
On Saturday, April 27, I got up early and made my way to Seoul First Church where I joined a busload of congregation members heading to Yeoncheon near the demilitarized zone (which around here is referred to as the DMZ). As soon as I climbed aboard the bus, I knew something was up; in my eight months here in Korea I've never before experienced Koreans to be quite so chatty and enlivened.
Seoul First Church had graciously invited me to join them on this expedition, along with several other mission co-workers from different countries; Yuki from Japan, Pat from Ireland, Jason from the Philippines, Carol from China, as well as myself from Canada. We didn't plan it this way, but I think in our one small group we beautifully represented the world in solidarity with the people of Korea. And it wasn't just one bus load. As it turns out there were more than 150,000 of us headed to different points along the border. Our goal: to form a human chain along the 500 km of the DMZ from east to west. 
The event marked the first anniversary of the Panmunjom declaration for peace, prosperity and unification of the Korean peninsula, which was signed last year by North and South Korea on April 27, 2018 at 2:27pm. With the failure of the Hanoi summit between North Korea and the U.S. two months ago, it was all the more important for people to raise up their voices for maintaining the momentum expressed last year at Panmunjom. The Hanoi summit itself, seemed rather unusual to me. It was a summit held with such huge stakes for the South Korean people and yet South Korea wasn't represented at the table.
It took us a couple of hours of travel to our designated spot. Fortunately our group had fantastic planners. We were well-stocked with food and water, and bathroom breaks were arranged in advance along the way. At our designated spot near Yeoncheon on the Injin River we ate our lunch, followed by some entertainment, prayers, and a short program. Even here there was quite a crowd. The magnitude of the entire event was very large scale and I imagine that months of preparation went into the planning. From my experience everything seemed to go incredibly smoothly, down to the last detail.
Finally, as 2:27pm approached, we gathered along the pathway to form our chain. Forming the chain itself only took a few minutes. Because of the hilly terrain, I could see no more than a little bit of the way up and down the line, but it was an eerie feeling, knowing that for a few moments we were all connected, hand in hand, from one side of Korea to the other. And then suddenly it was all over and I realized we were all heading back to our everyday lives.
An event like this one provides an opportunity for South Koreans to have their voices heard, young and old, rich and poor, and everything in between. What impresses me the most is that Koreans don't want to let this latest setback of the Hanoi summit dampen their spirits. They may be disappointed by it, but they aren't letting themselves be discouraged by it. They've been waiting for so long—it's been more than 70 years since the peninsula was divided. They've been here before and they are in this for the long haul. For them, they know that one day Korea will be united from North to South, and they are determined to be a part of it.
—John Egger is a theology alumnus of both St. Andrew's College in Saskatoon and Emmanuel College in Toronto.  He is currently serving as a United Church Co-worker in Mission with the Presbyterian Church in the Republic of Korea (PROK). Discover more about John and his ministry in Korea by visiting his blog.
Join the movement working for an end to war and lasting peace on the Korean Peninsula. Be part of the Korea Peace Now! Women Mobilizing to End the War campaign. Visit our Take Action, to ask the Canadian government to lift crippling sanctions and engage for peace in the Korean Peninsula.