The United Church is grateful to all those who continue to support emergency response efforts for the people affected by the Beirut explosions. Please continue to give as the rebuilding efforts are ongoing and the needs are great.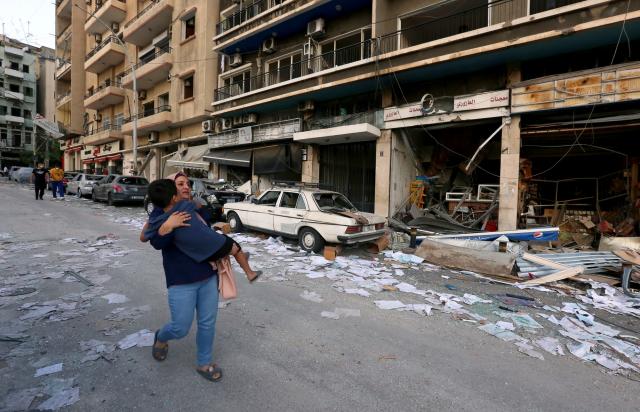 A woman carries a child through the streets of Beirut, Lebanon after the explosion.
Credit: World Vision/Reuters
On August 4, 2020 a massive explosion rocked the city of Beirut, Lebanon. The explosion caused immense destruction and the death toll continues to rise.
The United Church of Canada has been in direct contact with Mission & Service partners in the region. Samer Laham of the Middle East Council of Churches (MECC) tells the United Church:
"Thank God that MECC['s] team is safe but the situation in Beirut is beyond imagination. You cannot believe the level of destruction in many historical areas in Beirut […] Beirut needs billions of dollars to rebuild what it lost in one minute […] and maybe it will take some years to be recovered from this disastrous event."
Make a gift today to help those affected by this tragedy in Beirut.
Donate Now
Online via our secure donation page.
Phone 416-231-5931 or toll-free 1-800-268-3781 ext. 2738 and use your Visa or MasterCard.
Send a cheque, money order, or Visa or MasterCard information with donation amount to:
Note: As part of the United Church's Emergency Response Fund, 100% of your donation goes directly to emergency relief with 85% of your donation responding to this designated emergency and 15% responding to future emergencies that do not receive intense media coverage. Donations to Mission & Service enable the United Church to cover all of the costs of emergency response work without deducting any fees from your donation.
Lebanon Already Struggling

Lebanon has been struggling with economic and political crises that have been exacerbated by the explosion. United Church people have been supporting Lebanese partners' humanitarian relief work through our special COVID-19: Global Response appeal with ACT Alliance. The explosion and its aftermath are straining the already limited resources of Lebanon's government and health care systems.
Mission & Service partners MECC and the Department of Services to Palestinian Refugees (DSPR) are responding through ACT Alliance. Sylvia Haddad, Director of the Department of Services to Palestinian Refugees (DSPR-Lebanon) says, "This is the time to help a country which has hosted the Palestinian refugees for so many years, and we intend to do whatever we can to show our gratitude with the hope of getting help from our friends and partners."
Please pray for the injured and those who have lost their lives, as well as the families, communities and first responders to the disaster.
Together, we raised $103,000 through the Beirut appeal. Thank you!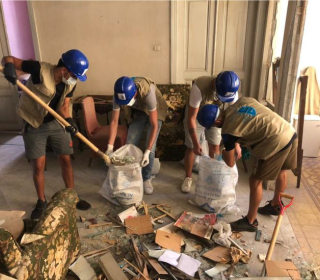 Your gifts supported young people helping to clean up after the Beirut explosion. Thank you.