Private member's bill will align Canadian law with UN Declaration on the Rights of Indigenous Peoples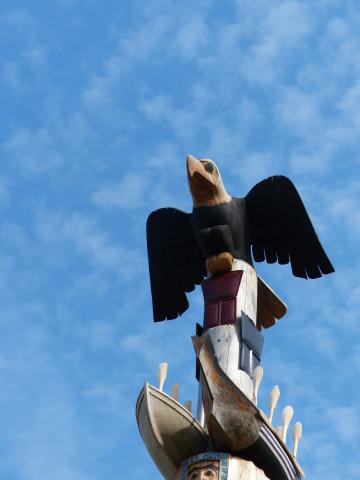 The Reconciliation Totem by Haida carver James Hart at the University of British Columbia.
Credit: Sara Stratton
The United Church of Canada welcomes the federal government's November 20 statement that it will support Bill C-262, a private member's bill designed to ensure that the laws of Canada are in harmony with the United Nations Declaration on the Rights of Indigenous Peoples.
The Truth and Reconciliation Commission of Canada's Calls to Action urged churches and governments to adopt the Declaration as the framework for reconciliation. The United Church did so in March 2016, noting at the time the Declaration's capacity to usher in "a new identity, a new relationship, and a new way of being, both in the church and in the world."
As part of its commitment to Declaration, the church has advocated for the government to support Bill C-262.  Moderator Jordan Cantwell wrote the Prime Minister with this request in August 2017, and included it in her letter to all MPs and Senators in October. United Church members and communities of faith across the country have also been active in advocating in support of the bill.
Government support for Bill C-262 means that its chances of passing second reading are strong. However, the bill still faces challenges and we ask you to continue to reach out to MPs of all parties and either thank them, or encourage them to support the bill.
If the bill passes second reading, it will still have more steps prior to becoming law. These include committee hearings, reporting back to Parliament, and final debate. Then a similar process takes place in the Senate.  We will continue to monitor Bill C-262's progress and we encourage you to remain engaged on it with your elected representative.
This is a significant step forward towards implementation of the UN Declaration on the Rights of Indigenous Peoples. We are grateful for the role that United Church members and communities of faith have played in reaching this point.
As we said in our March 31 statement on the adoption of the Declaration, "a new relationship is waiting, and we turn our faces towards it."