United Church people have given $86,000 towards humanitarian relief in Cox's Bazar and Kutupalong, the largest refugee camp in the world.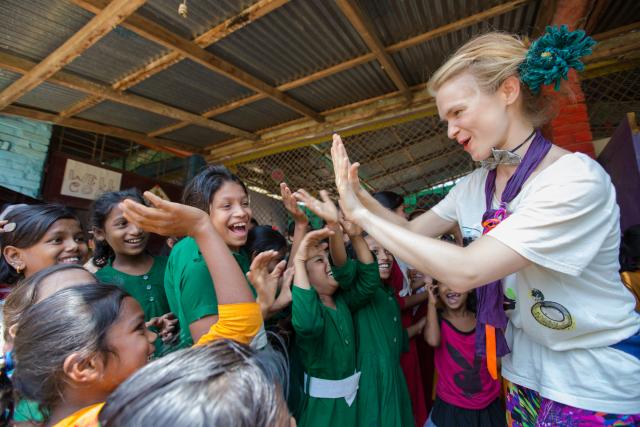 Clowns without Borders teach life-saving hygiene skills in a fun way to children at Kutupalong refugee camp, Cox's Bazar, Bangladesh.
Credit: ACT Alliance/ICCO
Extreme violence in Myanmar continues to drive Rohingya people into Bangladesh, and the speed and scale of this influx has generated great need for humanitarian support.
Thanks to the compassionate and generous support of United Church people, $86,000 has been contributed towards ACT Alliance's emergency response for Rohingya people that have fled to Cox's Bazar, Bangladesh. ACT programs have reached over 61 per cent of refugees in Kutupalong, the largest refugee camp in the world; relief efforts have focused on food security, camp infrastructure construction (such as bridges), disaster preparedness, and social support.
Women have been empowered by engaging in cash-for-work activities and building relationships in women-friendly spaces. Johora Begum, who was disconnected from her husband when she fled Myanmar in 2017, is using her tailoring skills to earn money to support her family in Cox's Bazar. "In our family, we had the idea that earning an income for women is Haraam [a sin]. But now my idea has changed and that of my parents, too. Now I sew and earn," says Johora.
Water, sanitation, and hygiene are also key focuses of ACT's work in this region. Through a partnership with Clowns without Borders, ACT brings hygiene education and laughter to Rohingya children in Kutupalong.
The need remains urgent—more Rohingya people arrive in Bangladesh every day, and existing camps and shelters are not equipped to withstand the landslides and cyclones common in the region. Your contributions are still needed to support ongoing relief efforts.
In a recent blog post, Ruth Noble, Mission & Service Engagement Coordinator offers a personal reflection on Rohingya children who have been displaced by the violence in Myanmar. Please include the displaced Rohingya people in your prayers.
For more information, contact:
Patti Talbot
Team Leader Church in Partnership
ptalbot@united-church.ca
416-231-7680 x4018
1-800-268-3781 x4018