As coronavirus outbreaks are reported around the globe, partners in China thank the United Church for continued prayers and support.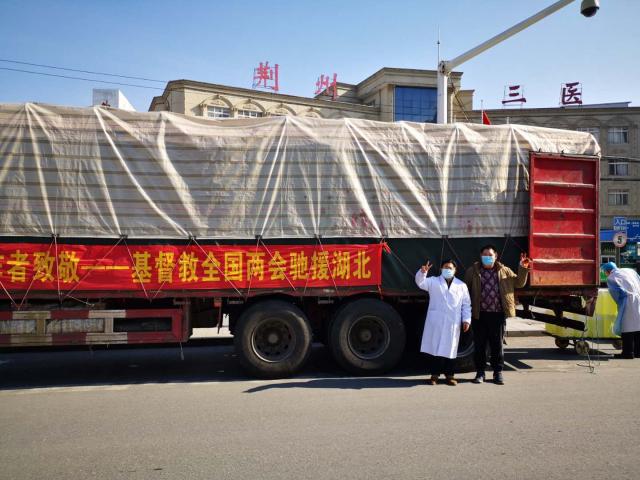 A doctor working in Hubei Province, China is pictured with a truck driver who drove 1,100 kilometers (more than 12 hours straight) to quickly deliver a shipment of disinfectant to area hospitals.
Credit: China Christian Council
As outbreaks of the coronavirus (COVID-19) continue to be reported around the globe, United Church partners in China express their thanks for our prayers and support. Funds contributed by the United Church have supported Mission & Service partners as they work ecumenically to provide much-needed medical supplies, disinfectant, protective clothing, and food items on the ground in Hubei Province.
Mission & Service partner the China Christian Council (CCC) recently wrote to the United Church:
"We would like to express our sincere thanks to all of our friends praying for and supporting China and Hubei. […] Now the epidemic is basically under control, but there are still many patients in hospital. The CCC is continuing to ship medical supplies for hospitals in Wuhan. […] We are very concerned about the situation in other countries and we call on all Christians in China to pray for the medical experts and patients of the world."
Mission & Service partner the Amity Foundation has been actively working since January 2020 to help contain the COVID-19 outbreak, supporting hospitals and communities in fighting the virus. For more stories and photos of Amity's recent activities, visit this March 2020 update.
While reported new cases in China have slowed, the CCC and Amity Foundation continue to monitor the situation and are prepared to respond. There is still an urgent need for protective medical supplies, basic living supplies, and other assistance. Please continue to offer your prayers and support for patients, caregivers, medical workers, and everyone who is helping to battle the coronavirus in China and elsewhere in the world.
For more information, contact:
Patti Talbot
Team Leader Church in Partnership
ptalbot@united-church.ca
416-231-7680 x4018
1-800-268-3781 x4018