I'm left facing the question that all students face as we enter a new school year: What's the point?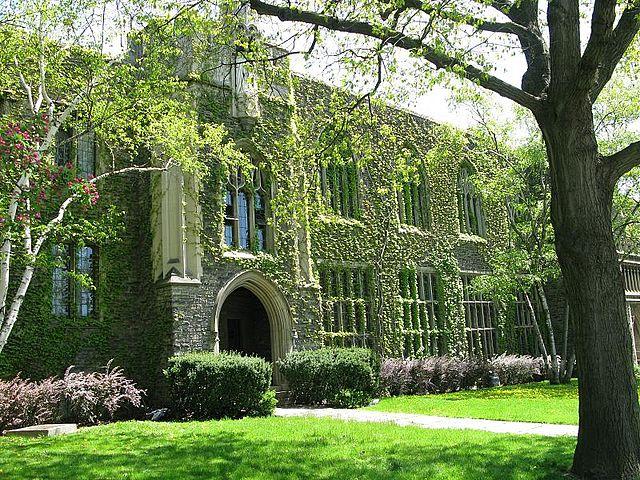 Credit: nevstokes - Emmanuel College, Wikipedia (CC BY 2.0)
In a few days, I will begin my Master of Divinity degree at Emmanuel College, studying with the intent to serve the church as a minister. After having completed an undergraduate degree in French literature, I suppose it's a bit easier for me to see how studying theology might seem, well… more Christian. However, I'm left facing the question that all students face as we enter a new school year: What's the point?
To be sure, that isn't a question of existential doubt. It is a fundamental question which every student must ask. For those of us who follow Jesus, it is even more essential. How does my education serve God and my neighbour? In what ways is my education of use to the church? What is the point of my putting aside three years of my life to read theology, to talk about God, and to learn how to pastor? In my case, the answer seems mostly clear: to be better able to serve the God and God's people. But what about those of us Christian students who are called to study physics or dramatic arts or pursue an apprenticeship in carpentry? Of what use is their "non-Christian education" to the church?
Stanley Hauerwas wrote an open letter to college students in which he stated, "it takes an educated mind to do the church's work of thinking about and interpreting the world in light of Christ. Physics, sociology, French literary theory: All these and more—in fact, everything [you study]—is bathed in the light of Christ. It takes the eyes of faith to see that light, and it takes an educated mind to understand and articulate it."
Whether we are studying thermodynamics, Frantz Fanon's writings, or the inner-workings of a four-stroke engine, our learning is bathed in the light of Christ and is therefore of immeasurable use to Christ's church. There is no "non-Christian education" for that which makes our education Christian is simply our being Christian and trusting that Jesus will meet us in the streets, the library, or the lecture hall. We are commissioned to enter the world and to study it—and to study God who "has created and is creating" that same world. The God who we encounter in Jesus Christ becomes known to us in unexpected places through the Holy Spirit, and our task as students is to be open to meeting God even (and especially) in our education.
Hauerwas cites St. Paul's exhortation for the Church to relish in its many divine gifts (1 Cor. 2); a wondrous diversity which is surely seen on display through the many professions and fields to which we are each called by God. Yet in that diversity, we also know that our unity stems from the fact that we are called into conformity to the image of Christ through the waters of baptism (Rom. 8:29). Christ's light is all around, if we only have the eyes to see it and are willing to be subsumed by it.
So pray, folks. Pray for those continuing their education this fall. If you are a student like me, pray that the Holy Spirit will open you to see the light of Christ in what may seem like the dark corners of academia. Above all, pray that whatever we learn can be used to build up the church, to lift up the lowly, to challenge the Powers, and to glorify our Triune God.
—Morgan Bell is a seminarian at Emmanuel College and a candidate for ministry from Bay of Quinte Conference. Originally from Omemee, Ontario, he was a contributing author to Stained-Glass Millennials and has written for other online and print publications.