An on-the-ground report on United Church partners in Cuba and Haiti affected by Hurricane Matthew.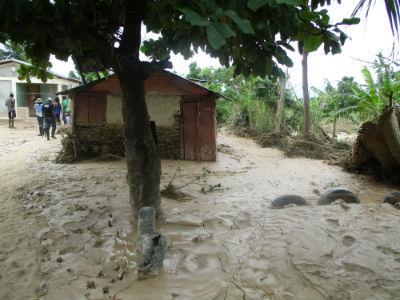 Credit: ACT Alliance / Margot DeGreef, CWS Haiti
Within hours of arriving in Cuba for celebrations of the 70th anniversary of the ecumenical seminary in Matanzas, rumours spread through our group that Hurricane Matthew was headed our way.
I'm the United Church's coordinator of Mission & Service partnerships in Latin America, which means I try to stay in touch with about 30 organizations in eight countries and share their stories with the people of The United Church of Canada.
As it happened, Matthew passed 900 km away at the eastern tip of Cuba, and its impact was far worse in southwestern Haiti. But that too is a land I love. My first visit was in 1984, and over the years, Haitian friends have shown me every corner of their beautiful land.
In many ways, Cuba and Haiti are a study in different approaches to development. Cuba has learned to protect its people with clear evacuation protocols: schools and churches serve as emergency shelters. In Haiti, an impoverished state has no capacity to protect people who live in poor housing built near rivers and beaches. Moreover, Cubans are perhaps the best-educated 10 million people in Latin America and the Caribbean, while Haitians are lucky if they get beyond grade six.
In Matanzas, I tried to follow the hurricane's progress on Cuban television, and through brief, expensive access to the data option of cell phones, or after late-night, two-kilometre walks to the city's Parque Libertad where we could get wifi access. It was not until a few days later in Havana that I was able to get a sense of what had happened. In eastern Cuba, the city of Baracoa was said to be destroyed. Buildings came down, but there was no loss of life. I visited with staff of the Cuban Council of Churches who were busy preparing an appeal for assistance that they submitted to the global ACT Alliance (of which the United Church is a member). ACT Alliance has also released an appeal for assistance in Haiti.
We soon heard as well from the two United Church partners in Haiti: the Methodist Church and the Karl Lévêque Cultural Institute, and then called on the people of the United Church to support relief efforts.
In Haiti, two fairly large cities were seriously damaged: Les Cayes and Jérémie. Both have major Methodist churches and schools, and there is a Methodist hospital in Jérémie.
Methodists report loss of 36 churches (which often serve as community centres), and six schools destroyed. ICKL also works with peasant farmers high in the mountains northeast of Les Cayes. ICKL and the Methodists are both responding to the crisis.
By Friday morning, October 7, it was clear that that Matthew had provoked yet another devastating crisis. Between meetings in Havana and intermittent internet access, I worked with colleagues in Toronto who prepared drafts of our appeal for support from the people of the United Church. The call went live on the website by late afternoon—in time for use in many congregations in their Thanksgiving Sunday services. Response so far has been generous.
-Jim Hodgson is Program Coordinator, Latin America/Caribbean at The United Church of Canada.