The explorations we are most afraid of are usually those that offer opportunities for growth.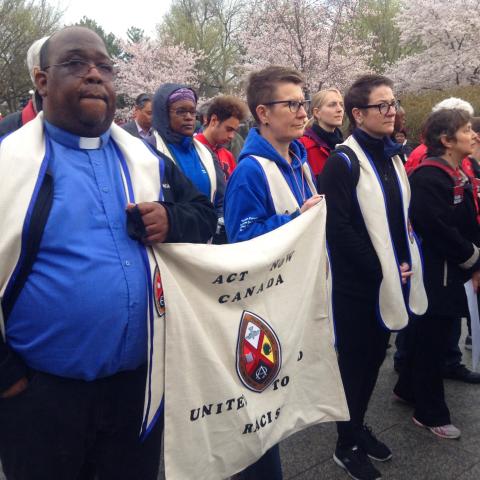 The author Paul Douglas Walfall (left), with the United Church delegation to the ACT March to End Racism, Washington D.C., April 2018.
Credit: Catherine Rodd, The United Church of Canada
Black History Month is about the history of all of us.
That was brought home to me loud and clear when I read 
Paul Douglas Walfall's blog
 about the role of United Church ministers in supporting the Ku Klux Klan in the prairies in the 1920s. It is a part of history that I did not know about, and that I would rather not know about. But it is important that I know about it.
Why did I hear about this uncomfortable part of our history from Rev. Walfall, who began his life and his ministry in Jamaica and now serves a congregation in Alberta, as well as being on the General Council Executive? Why didn't I, a livelong Canadian, United Church member, and history graduate, already know this?
There is no good reason. The simple reality is that I have not been diligent about searching out painful parts of our history. And I think I am not alone in that.    Christian life is all about transformation, and it is usually the explorations we are most afraid of that offer genuine opportunities for growth.
On a topic so big, it can be intimidating to even know where to begin. It isn't about feeling guilty for the things we cannot change, but about acknowledging those things, and finding the ways, big or small, that we can make a difference.
Here are just a few ideas of how to get started. You may want to share other resources and ideas in your communities or more broadly on social media:  
A good place to start is the United Church website, which has worship resources and links to a wealth of history and cultural material. You might use some in planning worship, or you might just take the time to explore it yourself. 
The CBC has some good material under the heading Being Black in Canada. 
Read a book or go to see a movie… ideally with a friend or friends that you can talk it over with after. This week a group of us at the General Council Office had a noon hour discussion about "If Beale Street Could Talk," a movie based on a book about the effect on a family when a young black man in 1970s Harlem is unjustly accused of a crime.
Pick an area of your own interest and research the history of black people in relation to it. For example, the National Hockey League has produced some Black History Month material this year.
In our chapel service this week, Beth Baskin spoke about the challenge of finding a piece of music, an image, and a story that we did not know before, and learning from it.
It may never feel like enough, but as we do any of these things, surely we are responding to our call to be the church, and to celebrate God's presence among us.

Blessings,

Nora
 — Nora Sanders is General Secretary of The United Church of Canada. 
This message was originally sent to subscribers to the General Secretary's letter, "Note from Nora." Subscribe here.