The Asian Rural Institute uses agriculture as a tool to make other community development projects possible.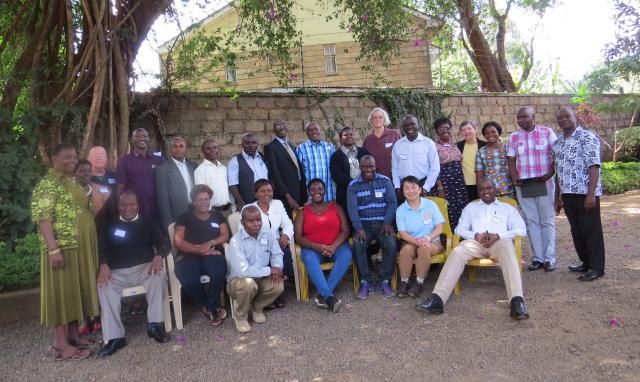 Kenyan graduates of the Asian Rural Institute and members of the visiting delegation.
Credit: Courtesy of Gary MacDonald
In January 2019, I had the privilege of spending two weeks in Kenya through the Pilgrims in Mission Program of The United Church of Canada. The visit, organized by Mission & Service partner Asian Rural Institute (ARI), was an opportunity to meet Kenyan graduates of the ARI community development internship. Based on an organic farm in Japan, ARI offers a nine-month community development internship to partners from the Global South. Graduates return home trained to implement the principles of organic farming and sustainable development in their own context. ARI graduates from Kenya are now engaged in a wide variety of church-related grassroots community development. 
In Kenya I joined two Americans, a Japanese person, and a video team of two from The United Church of Canada. The small size of our group was invaluable as it allowed us to spend one on one time with the people we met, learning more about their lives and work.
It was clear the ARI training has had a lasting impact on graduates' life and work in many ways. I was impressed with the graduates I met and the work they are engaged in. 
The graduates' life and work demonstrated a strong belief in the value of the community based work they were involved in. It was evident the training received helped them develop the skills and confidence needed for success. I saw a lot of hard work being done with cheerful and dedicated hearts. While it was obvious graduates do not have many resources at hand for their work, a great deal is being accomplished with very little.
Graduates are supportive of one another. Indeed, there was an expressed desire that more ways be found for graduates to meet and connect. I believe this would lead to increased opportunities of collaborative work as well as more sharing of information and experience.
Graduates said their time at ARI inspired them to find new ways of working together, new ways of problem solving, a wider outlook on life, and the self confidence to lead within their home communities.
They spoke about how principles learned at ARI have influenced their approach to their daily work:
Conservation of the environment is essential in all the work.
People are encouraged to look for resources locally and use what is at hand rather than rely on outside resources such as commercial/chemical fertilizers.
While much can be taught and learned about agricultural practice, agriculture itself can be used as a tool that makes other community development projects possible.
The results these graduates are seeing are that more communities in Kenya learning to work together and relying more on themselves and the resources they have than on the government.
Kenya is a country still finding ways to feed, educate, and provide health care for its people. Graduates of ARI, and others that I met in Kenya, make a great contribution to these efforts.
—Gary MacDonald is an active member of Sackville United Church and community, including being a Sunday school teacher, choir member, and food bank volunteer, and is interested in the art of storytelling. Gary is one of a number of people available to share their stories of the global church with United Church of Canada communmities of faith. See our list of available speakers.
Does this blog pique your interest to participate in people-to-people opportunities with global partners? We invite you to find out more at the People in Partnership webpage or by emailing us.